Tesla is not now, nor has ever been, a leader in the pursuit of autonomy.
In fact, Tesla is not even dedicating resources to full autonomy- they are merely bootstrapping their Level 2 Driver Assistance Systems to try and catch up to Musk's vacuous promises about their so-called Full Self-Driving product. To understand how much of a crock Tesla's pursuit of autonomy is, one first needs to understand the less-than-illustrious history.
In 2016, Tesla was using Mobileye vision systems in its cars.  Tesla Driver Assistance was the most advanced on the road at the time, but it wasn't their technology, it was Mobileye's.  Worse, it was the most advanced because it was being used dangerously, using drivers as guinea pigs in ways any other OEM & Mobileye itself were uncomfortable with.  This isn't better technology, its willingness to use existing technology in more dangerous ways- a pattern that permeates Tesla at large.
In 2016, Mobileye got so concerned with Tesla's misuse of their technology, they fired Tesla as a client. Tesla claimed it was because Tesla itself was developing  competing technology, but they did so by PR leaks. Mobileye put in a signed SEC filing that, in fact, they broke up with Tesla due to Tesla misuse of its technology. Tesla never formally responded because they could not, as Mobileye was speaking the truth.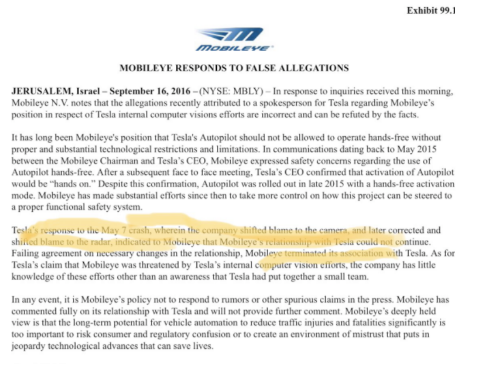 Sadly, Tesla continues to this day the very unsafe practices being undertaken by Tesla. In middle of trying to close the self-dealing SCTY merger and losing its partner, Tesla in October 2016 declared all cars were now "Full Self-Driving"- a claim that Tesla even now acknowledges is false.
In fact, at the time Elon/Tesla was making this claim, Tesla lacked even a basic data collection ability to work on autonomy & those working on Tesla vision were fleeing in droves due to Elon's negligent promises.  Here is the resume of Chris Lattner, brought in to head Tesla's effort in January 2017, speaking to these truths.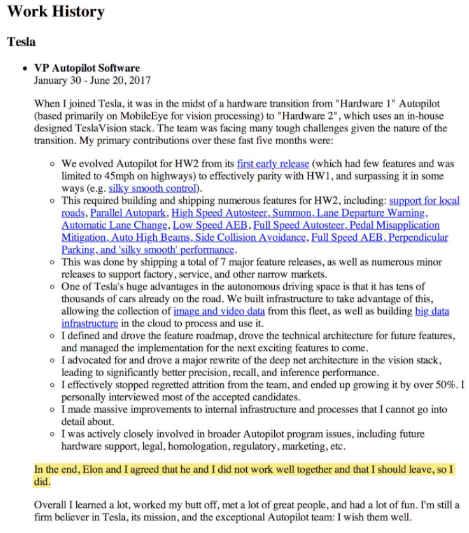 Since then, Tesla has just bootstrapped its existing technology in minor improvements with no discernible advantage. Which brings us to LIDAR, widely considered necessary for autonomy & used by SpaceX for critical spacing needs a la space shuttle docking.
Not based off of any scientific evidence of any kind, Tesla and Musk began making the claim that LIDAR was not necessary for autonomy. Every single person that has been senior at Tesla working on autonomy disagrees.  They have all left for LIDAR based autonomy companies- or at least companies that include LIDAR in their development.
Because Tesla sells autonomy, and has collected many hundreds of millions, they have to keep the dream alive.  Musk pretends there's regulatory hurdles, but Tesla itself acknowledges that's a lie.
Here is discussion of a study by Navigant Research, which shows the reality of where Tesla actually ranks on self-driving. The report concludes that
"[T]he performance of [Tesla's] systems remains inconsistent and its products do not match its proposed mobility business model.
https://www.cnet.com/roadshow/news/self-driving-study-navigant-research-tesla-waymo-cruise/
And here is another recent report on Tesla's Autopilot safety: https://teslanorth.com/2020/10/02/tesla-autopilot-ranked-poorly-european-assessment/. Furthermore, don't forget about the many (deadly) crashes that have involved Tesla's – it's getting so bad that even the NHTSA is finally ramping up their investigations.
In February 2021, Ed Niedermeyer did an excellent job summarizing the timeline of Tesla's journey towards self-driving from 2016-today in this Twitter thread. Niedermeyer's points and more are also given, along with original analysis of the misleading data from the recent safety "transparency" report Tesla issues somewhat regularly, in this excellent video:
And wouldn't you know, in July 2021, Mr. Musk himself finally had the humility to admit this very point: